Global Innovation Index 2018 names Singapore the most innovative country outside of Europe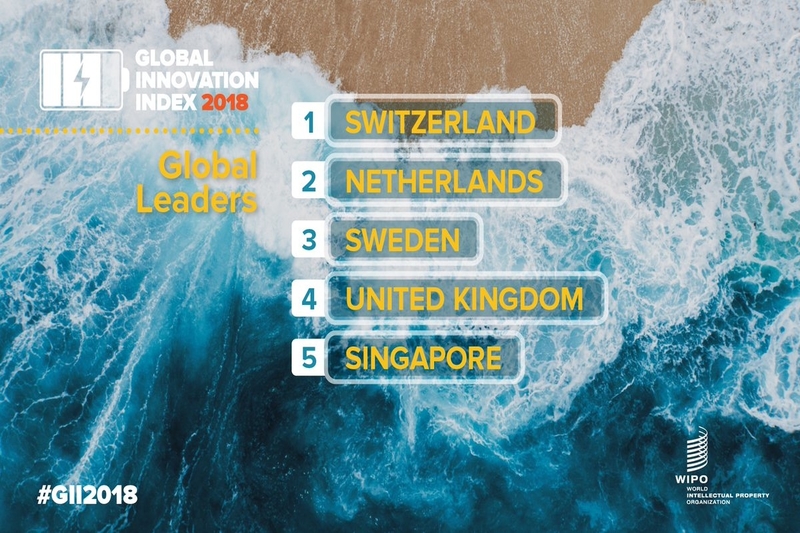 The much-awaited Global Innovation Index (GII) 2018 report has finally been released. Among a plethora of other 'bests' and 'mosts', Singapore is also the world's most innovative country outside of Europe!
The overall GII score is calculated as the simple average of the Input and Output Sub-Index scores. The report shows that Singapore ranks fifth worldwide with a score of 59.80 following Switzerland (68.40), the Netherlands (63.30), Sweden (63.10), and the United Kingdom (60.10).
Singapore has moved up two positions and takes the 5th spot this year. It has retained its top spot in the Innovation Input Sub-Index and gained two positions in the Innovation Output Sub-Index (15th). Singapore's Efficiency ratio is 63 and its GDP is PPP$ 513.7. Its GDP per capita is PPP$ 93,905.
Singapore ranks in the top 5 in all input pillars, confirming that it is the leading country in the Institutions sub-index. It also gained a top rank in Human capital and research, the pillar which gauges the human capital of countries (score: 73.28), although this is partly due to data becoming unavailable on two indicators— government funding per pupil and school life expectancy.
It also holds 2nd position in Business sophistication (the fifth enabler pillar which aims to capture a country's level of business sophistication to assess how conducive firms are to innovation activity) with a score of 65.08.
In terms of innovation outputs, Singapore maintains its 11th position in Knowledge and technology outputs, the pillar that covers all those variables that are traditionally thought to be the fruits of inventions and or innovations; Singapore's score here is 51.27.
Singapore lost three spots in Creative outputs (35th; score: 39.60) but, at the sub-pillar level, Singapore still holds a top rank in Political environment (rank 1; score of 94.65), Regulatory environment, and Tertiary education. Singapore is at the 2nd position in Investment this year.
Indicators identified as relative weaknesses include expenditure on education, pupil-teacher ratio, environmental performance, productivity growth, and trademarks and industrial designs by origin.
Apart from these areas of opportunity, Singapore keeps its 1st place in various indicators, including government effectiveness, regulatory quality, PISA results, IP payments, and FDI outflows.
This year Singapore also gains (or re-gains) a top rank in five other indicators: political stability and safety, market capitalization, FDI inflows, high- and medium-high-tech manufactures, and high-tech exports.
Chapter 11 of the GII hails Singapore as 'A Living Lab for Renewable Energy'.
From launching the world's largest floating photovoltaic (PV) test bed to building the first industrial micro-grid test system in South East Asia, Singapore consistently demonstrates that it can be a 'Living Lab' for renewable energy (RE) innovators to test their ideas. Beyond testing, innovators can leverage Singapore's world-class legal framework, robust intellectual property (IP) regime, conducive business environment, and extensive global networks to commercialize their innovative RE ideas, transforming them into viable technologies for global markets.
The GII report also commends for Singapore for being a leading example of innovation in green technology. It notes that Singapore has pumped S$2.04 billion into R&D for the clean technology sector, which includes environment and water solutions, since 2006.
Singapore successfully developed and installed 10 different floating support structures for PV systems that were constructed by both local and overseas companies on the Tengeh Reservoir in 2016 to determine the most suitable system for Singapore. Building on the results of the test bed, the Public Utilities Board (the nation's water agency) is now exploring the feasibility of deploying a 50 megawatt (MW) floating solar PV system at the Tengeh Reservoir. The amount of energy generated from such a system could potentially power about 12,500 average households in Singapore.
Mr Daren Tang, Chief Executive of IPOS, said, "Innovation is becoming a driving force in our economy and globally. The GII 2018 accolade supports the advancement of Singapore's IP and innovation agenda. Being ranked fifth in a credible global study gives greater impetus for our enterprises and entrepreneurs to keep using innovation and leveraging their intangible assets to grow from Singapore to the world."
---
Source: OpenGov